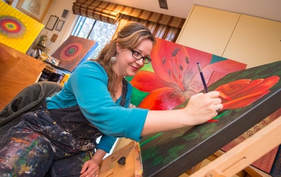 Amy Bjorn is a creative spirit. Using different materials, acrylics and mediums, she creates interesting, sometimes cosmic, art work.

Since childhood she has been inspired by creative parents, colour, shapes, textures and nature.
After Interior Design school, she found herself working in a creative roll with a worldwide company, then a local firm. Landmark Education gave her freedom and ultimately her own Interior Design company, She then began a spiritual journey through Meditation at Training in Power Academy. It was from there that she started creating her own art pieces, discovering hidden artistic talent and expanding on skills by studying with various artists.. Through this she has developed her own artistic style and techniques that bring wonderful texture and spirit to her works.

Exhibitions
Exposure Award Show, Lourve, Paris, France
Anticipation, Gallery 1710, South Delta
Time for Change, Gallery 1710, South Delta
Atmosphere, Gallery 1710, South Delta
A View from Within, Gallery 1710, South Delta
A Painters Palette, Gallery 1710, South Delta
Big and Small show, Gallery 1710, South Delta
A Capella, Gallery 1710, South Delta
Vagasqurade, AMS Art gallery, Vancouver
Beaumont Art gallery, Vancouver